[CCG / TCG] MAJ Star Wars The Card Game Draw Their Fire
|

[MAJ]
Le deuxième pack "Attirer Leur Feu" pour la VF et "Draw Their Fire" pour la VO sont disponibles.
Alors, on prépare les classeurs pour la réception des cartes, merci.
—————————————————————————————————————————-
On n'a pas encore fini le cycle "Echoes of the Force" et le premier pack du prochain cycle "Rogue Squadron" est loin d'être disponible que voici la preview du deuxième pack intitulé "Draw Their Fire" qui lui aussi viendra plus tard dans l'année, genre fin de l'année.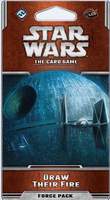 Les cartes "unités" avec la caractéristique "pilot" vont pouvoir être combinées avec des vaisseaux et des véhicules et permettrent de contrecarrer les plans de l'ennemi.
Par exemple, avec la carte LE-BO209, le droïde co-pilote de Dash Rendar, permet de retirer du jeu un vaisseau qui vient juste de finir une phase de combat, évitant ainsi à votre adversaire de cibler cette carte lors de son tour d'attaque.
D'autres cartes "enhancement", comme Spacer Cantina, permettent de réduire le coût d'activation des cartes "pilote".
On peut aussi obliger l'ennemi à choisir une autre cible lors de son tour d'attaque contrant un possible piège.
Ce pack ajoute une certaine subtilité lors des affrontements dans l'espace minimisant le combat direct et la puissance de feu pure.
Pour en savoir plus, voilà la news sur le site officiel (en VO).
Firement vôtre.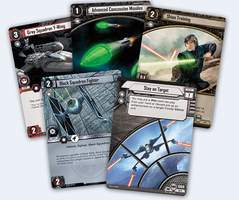 Share and Enjoy