[CCG / TCG] MAJ Star Wars The Card Game Ready for Takeoff
|

[MAJ]
Les containers qui contenaient les cartons de paquets de cartes comme contenu sont enfin arrivés à destination.
On peut donc se les procurer dès aujourd'hui chez vos fournisseurs habituels.
—————————————————————————————————————————-
On n'a pas encore fini le cycle "Echoes of the Force" vu qu'il reste encore 2 extensions à sortir que Fantasy Flight Games offre un aperçu du prochain cycle, "Rogue Squadron" qui viendra plus tard dans l'année, genre fin de l'année.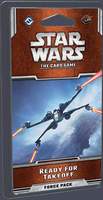 Ce cycle va s'éloigner des champs de bataille et amener le combat dans l'espace avec des vaisseaux et des pilotes chevronnés.
Mais les 5 nouveaux set "objective" vont également apporter de nouveaux éléments permettant de faire pencher la balance de son côté. C'est mieux si on veut survivre.
Ainsi, dans le premier Force pack "Ready for Takeoff", vous aurez la possibilité d'associer une unité "pilote" à une unité "vehicle"
Ce qui aura pour conséquence de débloquer des effets de jeu comme par exemple de faciliter la victoire lors de la phase de Force.
En effet, la carte "Baron Fel", associée à la carte "181st Tie Interceptor" ajoute ses points de Force sans être obligé de soumettre la carte à la Force.
Pas mal.
Bref, si vous en avez marre de jouer à la Force et que vous voulez revenir aux fondamentaux avec des duels en face à face, l'un contre l'autre, ce cycle va vous plaire.
Pour en savoir plus, voilà la news sur le site officiel (en VO).
Squadronement vôtre.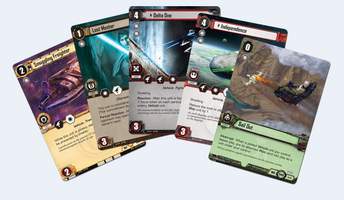 Share and Enjoy