[Collection] Hasbro Les nouvelles figurines Black Serie 6″ se dévoilent
|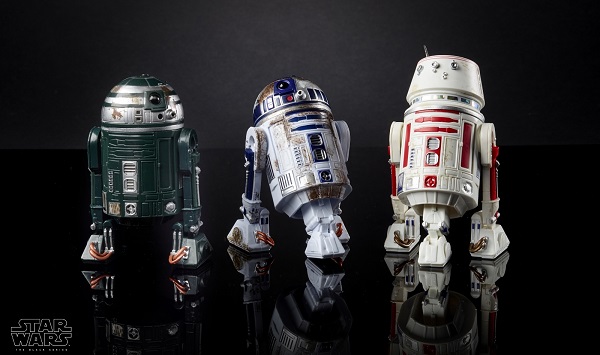 Salutations !
Le New-York Toy Fair bat son plein à New-York (comment ça vous vous en doutiez ?) et Hasbro est bien évidemment de la partie. Et au cours de ces derniers jours, de nombreux produits dérivés de Star Wars ont été dévoilés !
Il est grand temps de faire un rapide tour d'horizon de ce que nous réserve ces prochains mois en termes de figurines Star Wars !
On commence donc par les annonces faites dans la gamme The Black Serie 6″. Attention, certains personnages sont issus du futur film, à savoir Solo, donc avis aux non-spoilers, ne descendez pas plus bas !
Tout d'abord, un pack rassemblant 3 gentils petits astromécanos (R2-D2, R2-X2 et R5-D8), tous issus de l'Episode I, sera vendu comme une exclusivité Amazon.
Nous aurons aussi droit à divers personnages issus de divers médias : le clone commandant Wolffe de The Clone Wars, le Grand Moff Tarkin de l'Episode IV, Leia sur Hoth et Zuckuss de l'Episode V (à noter que ce dernier sera une exclusivité Toy'r'us), un garde Gamoréen de l'Episode VI (exclusivité Target) ainsi que notre amirale aux cheveux violets, j'ai nommé Holdo de l'Episode VIII.
Pour finir, viennent les personnages de Solo. Bien évidemment, on aura Han avec-un-nouveau-visage-qui-n'est-pas-celui-de-Ford, mais aussi la belle Qi'Ra, Lando fidèle à lui même et Tobias Beckett. Deux nouveaux soldats impériaux qu'il nous tarde de découvrir dans le film, le Range Trooper et le Stormtrooper de Mimban (exclusivité Walmart) feront partie de la vague.
Comme on peut le constater, la part belle est donnée aux personnages du spin-off et c'est logique puisqu'il sort sur nos écrans dans à peine plus de 3 mois. Mais il y'en a aussi pour tous les goûts avec des figurines issues de nombreux autres films.
C'est tout pour cette gamme 6″, on se retrouve très vite pour les annonces faites concernant les figurines 3.75″. Et là encore, il y'a du beau monde !
Share and Enjoy