[Collection] LEGO Les visuels officiels de plusieurs sets de Janvier 2018
|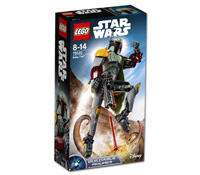 Mise à jour :
Comme l'an dernier, il semblerait que certains magasins aient déjà mis ces sets en rayon… Ca va être un peu juste pour les avoir sous le sapin demain, mais sur un coup de chance… On ne sait jamais !
Je vous glisse aussi un peu plus bas les visuels officiels des sets 75201 – First Order AT-ST et 75205 – Mos Eisley Cantina, ainsi qu'un sachet 40298 – DJ et les premières infos sur les sets d'août 2018 (oui, déjà).
---
Les premiers sets des Derniers Jedi sont en magasin depuis 2 mois, vous les avez déjà tous et vous attendez avec impatience l'annonce des prochains ? Ca tombe bien, les premiers visuels officiels de sets de janvier 2018 ont été dévoilés !
On attaque avec les sets "non spoilers", consacrés à la période classique de la saga…
Hors nouveaux films
Niveau Buildable Figures, nous aurons donc Boba Fett dans le set 75533 et de Dark Vador dans le 75534 :
Vador avait déjà eu droit à une Buildable Figure en 2015, et il faut reconnaitre que celle-ci rend bien mieux hommage au Seigneur Noir des Sith… La gamme Buildable Figure s'améliorerait-elle enfin ?
Ensuite, deux sets plus modestes : 75198 – Tatooine Battle Pack et 75199 – General Grievous' Combat Speeder :
Pas de grosse surprise si vous aviez déjà suivi les précédentes actus : le Battle Pack spécial Tatooine sent le petit cadeau fait aux amoureux de la planète désertique, tandis que le duel Windu/Grievous rappelle les grandes heures de la série The Clone Wars.
Comptons enfin le 75204 – Sandspeeder, qui n'appartient pas aux anciens films mais n'apparaitra pas non plus dans les nouveaux…
On rajoute ici le 75205 – Mos Eisley Cantina, nouvelle version de la cantina avec son entrée, son bar et… un speeder anecdotique qui passe dans la rue !
A noter que deux autres sets n'ont pas encore été annoncés officiellement : le 75206 qui devrait être un Battle Pack avec deux clones phase II, Ki-Adi-Mundi et Coleman Trebor, et le 75208 qui correspondra à la hutte de Yoda dans l'Empire contre-attaque.
Episode VIII : Les Derniers Jedi
Pour l'Episode VIII, on commence avec 6 Microfighters répartis en 4 boites :
Eh oui, des sets doubles avec des longs à rallonge ! Après tout pourquoi pas, le but de ces boites a toujours été de voir s'affronter des antagonistes…
Et enfin, les sets classiques de l'Episode VIII :
Le Battle Pack est sympathique, mais on va surtout s'attarder sur le 75200 : on retrouve enfin Luke ! La boite promet de suivre l'entrainement de Rey avec le Jedi, un parallèle avec le set 75208 ?
Et enfin, une boite qui ne manquera pas de nous rappeler les sets Hoth : 75202 – Defense of Crait :
Une tranchée, des tourelles, tout y est ! On y retrouve Poe Dameron et un certain Amiral Ematt…
Quant au set 75201 sur lequel on n'avait pas encore d'informations, il s'agira donc d'un AT-ST volé par BB-8. Comme dans le film, le bipode est privé de sa tête. Un peu limite de la part de LEGO…
S'ajoute à tout ça un sachet consacré à DJ, puisque celui-ci était absent de tous les sets Episode VIII… On ignore encore de quelle manière il sera distribué :
---
Et pour terminer, quelques infos supplémentaires sur les sets qui arriveront en cours d'année.
Cinq autres Buildable Figures devraient arriver entre avril et août : Dark Maul (75537), un Super Droïde de Combat (75538), un Clone de la 501e Légion sur un AT-RT (75539), ainsi que deux autres personnages (75535 et 75536, sans doute liés au film Solo).
Sur la vague d'août, on aura aussi droit au chasseur Jedi d'Anakin dans The Clone Wars (75214), à un nouveau X-Wing (75218, comme d'habitude avec deux pilotes et deux droïdes) et un nouveau Sandcrawler (75220, avec Luke, deux Jawas et trois droïdes). Et plusieurs autres sets, encore gardés secrets…
Et enfin, on connait la référence du calendrier de l'avent 2018 : 75213. Quant au contenu, la photo reste assez floue…
Pour discuter des sets Episode VIII c'est par ici, et pour tout le reste c'est sur le topic normal !
Share and Enjoy