[Collection] LEGO Les visuels officiels de plusieurs sets de Janvier 2018
|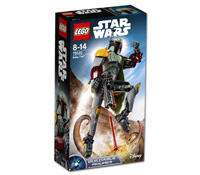 Les premiers sets des Derniers Jedi sont en magasin depuis 2 mois, vous les avez déjà tous et vous attendez avec impatience l'annonce des prochains ? Ca tombe bien, les premiers visuels officiels de sets de janvier 2018 ont été dévoilés !
On attaque avec les sets "non spoilers", consacrés à la période classique de la saga…
Hors nouveaux films
Niveau Buildable Figures, nous aurons donc Boba Fett dans le set 75533 et de Dark Vador dans le 75534 :
Vador avait déjà eu droit à une Buildable Figure en 2015, et il faut reconnaitre que celle-ci rend bien mieux hommage au Seigneur Noir des Sith… La gamme Buildable Figure s'améliorerait-elle enfin ?
Ensuite, deux sets plus modestes : 75198 – Tatooine Battle Pack et 75199 – General Grievous' Combat Speeder :
Pas de grosse surprise si vous aviez déjà suivi les précédentes actus : le Battle Pack spécial Tatooine sent le petit cadeau fait aux amoureux de la planète désertique, tandis que le duel Windu/Grievous rappelle les grandes heures de la série The Clone Wars.
Comptons enfin le 75204 – Sandspeeder, qui n'appartient pas aux anciens films mais n'apparaitra pas non plus dans les nouveaux…
A noter que deux autres sets n'ont pas encore été annoncés officiellement : le 75206 qui devrait être un Battle Pack avec deux clones phase II, Ki-Adi-Mundi et Coleman Trebor, et le 75208 qui correspondra à la hutte de Yoda dans l'Empire contre-attaque.
Episode VIII : Les Derniers Jedi
Pour l'Episode VIII, on commence avec 6 Microfighters répartis en 4 boites :
Eh oui, des sets doubles avec des longs à rallonge ! Après tout pourquoi pas, le but de ces boites a toujours été de voir s'affronter des antagonistes…
Et enfin, les sets classiques de l'Episode VIII :
Le Battle Pack est sympathique, mais on va surtout s'attarder sur le 75200 : on retrouve enfin Luke ! La boite promet de suivre l'entrainement de Rey avec le Jedi, un parallèle avec le set 75208 ?
Et enfin, une boite qui ne manquera pas de nous rappeler les sets Hoth : 75202 – Defense of Crait :
Une tranchée, des tourelles, tout y est ! On y retrouve Poe Dameron et un certain Amiral Ematt…
Là encore, il reste un set (le 75201) à découvrir. Patience patience…
A très bientôt pour les derniers visuels officiels !
Pour discuter des sets Episode VIII c'est par ici, et pour tout le reste c'est sur le topic normal !
Share and Enjoy