[Collection] Trading Cards Topps – Rogue One : Mission Briefing
|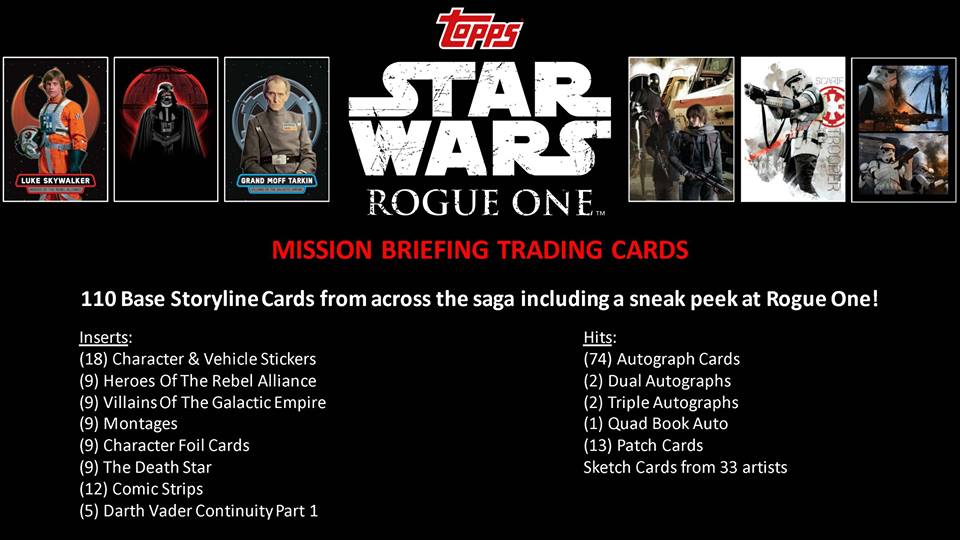 L'année dernière, on avait un échauffement avant la déferlante de l'Episode VII avec la série Journey to Star Wars : The Force Awakens.
Cette année, Topps fait pareil avec Star Wars Rogue One : Mission Briefing.
Et il faut bien en parler un petit peu vu que la série sort ce vendredi.
Oui, il était temps.
Mais Topps n'a pas jugé bon de faire de la promo sur cette série.
Comme on peut le deviner, on aura des cartes issues de la Saga et provenant du prochain film.
Le set de base de 110 cartes sera accompagné de ses sets parallèles, de ses mini-séries et de ses cartes rares (hit cards).
Et des mini-séries, il y en a plein.
D'habitude, c'est plutôt 3, 4 ou 5 maxi.
Mais là, c'est carrément 8.
Le master set risque d'être plus cher que pour d'autres séries avec ses 190 cartes au total.
Par contre le design pour les cartes "Rogue One" est cool.
On dirait le même style que les cartes de la série non américaine.
Pas d'innovation au niveau des cartes rares avec des autographes, des patchs et des sketchcards.
Missionement vôtre.
Share and Enjoy