[Encyclopédie] Mise à jour de l'encyclopédie officielle !
|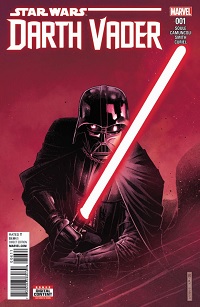 Salut à tous !
Aujourd'hui, parlons univers officiel, parlons comics ! C'est au tour des six premières issues de la nouvelle série Darth Vader – Dark Lord of the Sith, qui forment le premier arc, On retrouve donc notre Seigneur Noir des Sith, Dark Vador juste après les tragiques évènements survenus dans La Revanche des Sith. L'Empire Galactique se met en place et étend rapidement son influence à travers la galaxie avec l'aide notamment de Mas Amedda et du Grand Moff Tarkin. Mais c'est une mission bien plus personnelle que L'Empereur Palpatine (allias Dark Sidious) confie à son jeune élève récemment passé du côté obscur. Afin de faire honneur à la tradition Sith, Vador doit se procurer un cristal Kaiburr auprès d'un Jedi afin de se fabriquer son propre sabre laser ! Il se rend donc à bord de la station Brighthome, un ancien avant-poste Jedi pour obtenir des informations. Là, le Sith croisera le chemin des malheureux clones Kicker et Ding qui eurent le malheur de s'en prendre à Dark Vador…
Prochain arrêt de Vador : la Lune fluviale d'Aldoleem où un certain Jedi, Kirak Infil'a se cache dans un monastère situé sur le Mont Passvaal depuis des années avec pour seule compagnie un droïde nommé Arex. Ce monde en apparence perdu est pourtant peuplé par les Raptoran, des sortes de gros oiseaux, et abrite aussi la ville d'Am'balaar où vivent les Tholothian Jogg, Mareena et Colli. C'est aussi l'occasion d'en apprendre plus sur les coutumes Jedi puisque Kirak a fait le Vœu Barash.
Sa tâche accomplie, le Sith retourne sur Coruscant non sans avoir fait un petit détour par Mustafar. Il fera alors la connaissance avec le Grand Inquisiteur, le Cinquième Frère, la Septième Sœur et le Huitième Frère, tous membres de l'Inquisitorus, un groupe d'assassins obscurs à la solde de Palpatine. Ces derniers, à présents sous les ordres de Vador ont pour mission de traquer les derniers Jedi tels que Jocasta Nu.
C'est tout pour aujourd'hui ! N'hésitez pas à donner votre avis sur ce comics sur sa fiche si vous l'avez lu. En attendant, bonne lecture et à la semaine prochaine pour le retour de Rebels dans l'encyclopédie !
Share and Enjoy