[Encyclopédie] Mise à jour de l'encyclopédie officielle !
|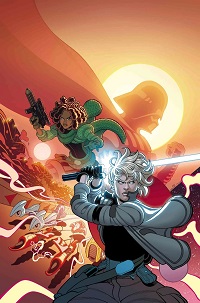 Salut à tous !
Aujourd'hui dans l'encyclopédie : l'annual #4 de la série de comics Star Wars ainsi que quelques fiches issues de la série télévisée The Clone Wars. Let's Go !
On commence donc par l'annual dans lequel Sana Starros met la main sur le sabre laser d'un ancien Sith, Dark Atrius, sur la planète Hradreek. Vont également être impliqués dans cette histoire Luke Skywalker, R2-D2 et même Dark Vador !
Place ensuite aux fiches qui trainaient dans un coin de tiroir du staff depuis la fin de la série The Clone Wars :
C'est également l'occasion de mettre à jour la fiche officielle de Dark Bane, puisqu'il fait une apparition spectrale dans les derniers épisodes de la série… Et que cela n'avait toujours pas été fiché dans notre encyclopédie !
C'est déjà fini pour aujourd'hui. Mais pas de panique, on revient la semaine prochaine avec une mise à jour des plus conséquentes : ben oui, vous avez, cela fera un mois qu'un certain film est sorti au cinéma…
Share and Enjoy