[Encyclopédie] Mise à jour de l'encyclopédie The Clone Wars
|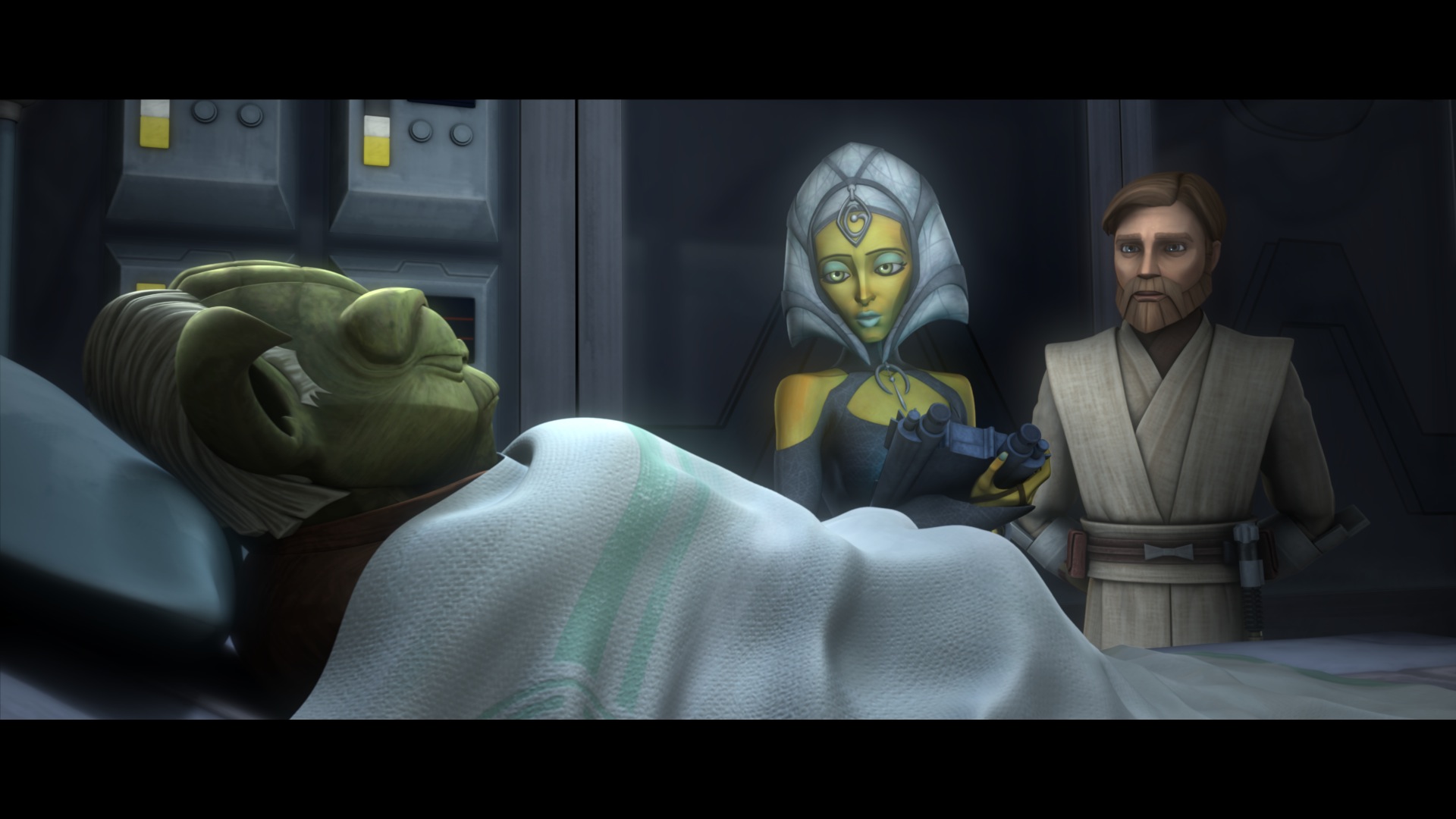 Les dernières saisons de la série The Clone Wars amènent les héros d'un bout à l'autre de la galaxie. Voici, un peu en vrac, une série des fiches qui sont tirées de ces aventures.
Rig Nema et Obi-Wan au chevet de Yoda
Commençons par celui qui vécut certainement l'épopée la plus mystérieuse et métaphysique de la série (ou de cette news tout du moins) : Yoda. Frappé du syndrôme de Jeandarbalète, il entend dans sa tête la voix de Qui-Gon Jinn, mort 12 ans plus tôt. Bien que son ami et collègue Obi-Wan et la docteur du Temple Rig Nema lui suggèrent beaucoup de repos, il ne peut s'empêcher de prendre la poudre d'escampette, pour un voyage au cours duquel il découvrira les Prêtresses de Force…
Avant de s'occupper des visions du Maître Jedi, Obi-Wan participa avec ses collègues Thongla Jur et Aayla Secura à la réunion qui mit en place la fameuse D-Squad, composée uniquement de droïds.

Shaak Ti (au centre) et Cinqs (à droite)

De son côté, sur Kamino, la Maître Jedi Shaak Ti était confrontée au fougueux soldat Cinqs (ou Fives si vous préférez).
Et pendant ce temps, à l'autre bout de la galaxie, un vilain pas beau recrute des acolytes parmi la pègre. Sur sa liste, on trouve en particulier le Falleen Xomit Grunseit et le Pyke Lom.
Quittons à présent The Clone Wars pour repasser à Rebels avec trois petites fiches. Sans plus de cérémonies, découvrez le sabre de Kanan et celui d'Ezra , qui ont tous deux leurs particularités, ainsi que le célèbre jeu de Sabacc.
Pour finir, petite devinette : qui est Cornelius Evazan ? Si vous avez la réponse sans tricher, ne vous moquez pas de ceux qui ne savent pas, c'est pour ça qu'on a inventé le concept d'encyclopédie…
Share and Enjoy