[Illustrations] Trading Cards Topps – The Rise of Skywalker
|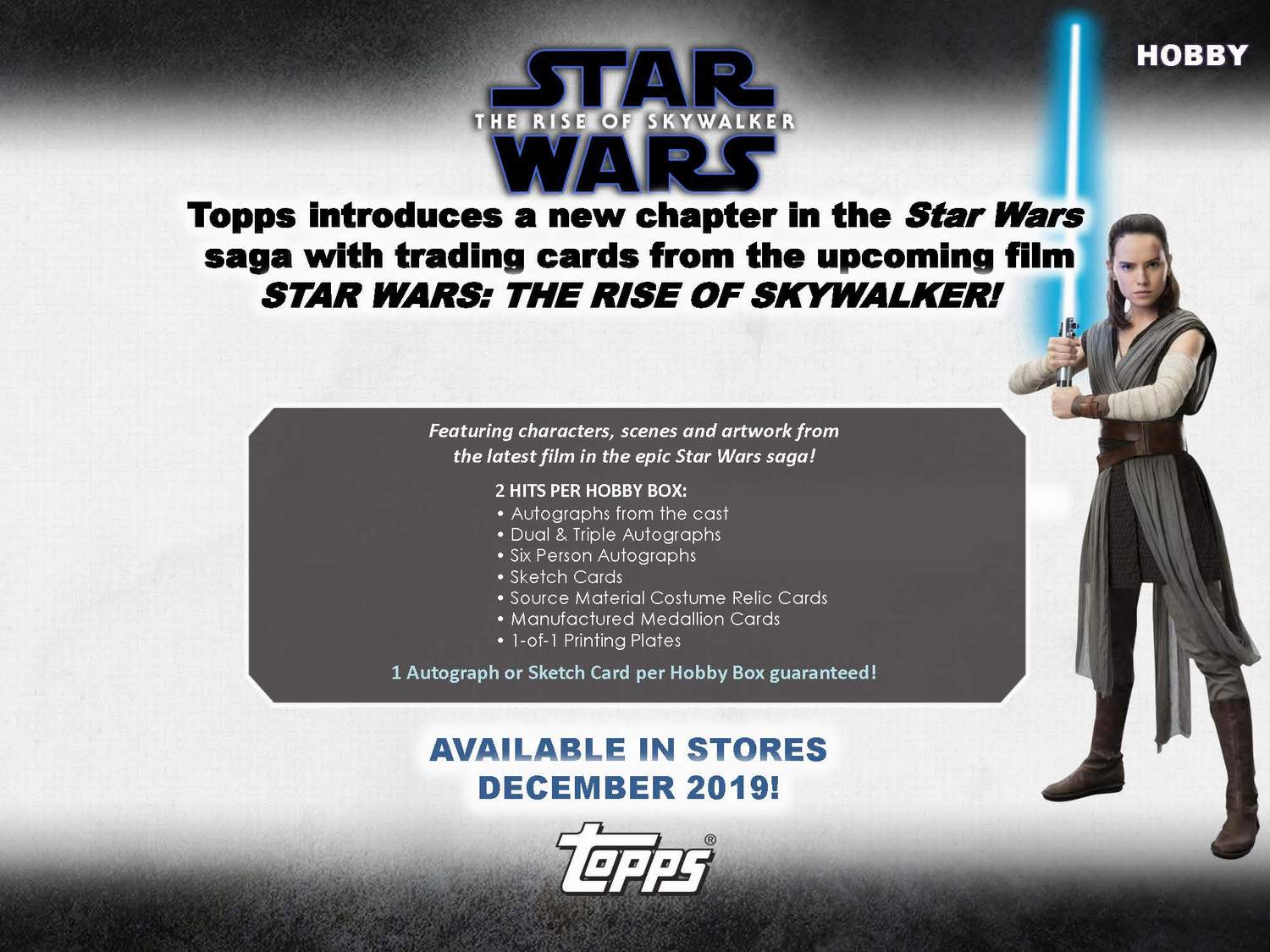 Ben, ben, voilà.
La Saga Star Wars avec les films numérotés touche à sa fin en décembre.
Il en est de même avec les séries Topps.
Voici donc la prochaine série basée sur un film.
Rassurez vous, rien de bien innovant sera à découvrir.
Le set de base est composé de 100 cartes qui reprendront l'intrigue du film avec des personnages, des lieux, des vaisseaux, des batailles.
Evidemment, les versions parallèles sont là :
– carte "Blue" : 1 carte par paquet
– carte "Green" : 1 carte tous les 2 paquets
– carte "Purple" : 1 carte tous les 4 paquets
– carte "Orange" : 99 exemplaires de chaque carte
– carte "Gold" : 25 exemplaires de chaque carte
– carte "Black" : 1 seul exemplaire de chaque carte
On a 5 mini séries (ou insert cards) avec des thèmes classiques :
– Star Wars Illustrated Character set : cartes se focalisant sur des personnages
– Crush the Resistance set : cartes sur la propagande du Premier Ordre, probablement
– Long Live the Resistance set : cartes sur la propagande de la Résistance, probablement
– Smay the Force be with you set : cartes sur les forceux du film ?
– Ships & Vehicles set : cartes sur les vaisseaux et engins de cet Episode IX
On retrouve les mêmes versions parallèles que pour le set de base
Les cartes 'autographe' sont présentes.
Qui en aurait douté ?
Et comme d'habitude, on a des cartes avec une signature, deux signatures, trois signatures et même 6 signatures (qui est ultra méga rare bien sûr).
Sinon, idem concernant les versions parallèles, on a les mêmes couleurs
Au niveau des cartes rares (ou hit cards), on retrouve les fameuses cartes avec des médaillons (Commemorative Medallion card) avec son lot de versions parallèles. Certaines ont une dédicace sur al carte mais leur nombre est très limité.
On a aussi des cartes avec des morceaux de tissus (Costume Relic Card) provenant des costumes, enfin, provenant des rouleaux de tissu ayant servi pour confectionner les costumes.
Les éternelles sketchcards (cartes dessinées) ont la particularité de se décliner selon deux modèles: classique et avec le contour d'un casque d'un Sith Trooper (shaped sketchcard).
Et il ne faut pas oublier les 'printing plates' (plaque ayant servi à l'impression des cartes).
Bien
Ca se présente comme d'habitude avec une boite de 24 paquets contenant 8 cartes chacun pour un prix de $75.
Topps certifie la présence de 2 cartes rares (dont 1 carte autographe) dans chaque boite. L'autre carte peut être soit une autre carte autographe, soit une sketchcard, soit une carte médaillon, soit une carte avec un bout de tissu.
C'est prévu pour la sortie du film en décembre 2019.
Dès qu'on a quelques visuels des cartes, promis, je reviens vous voir.
Risement vôtre.
Share and Enjoy