[Jeux Vidéo] Star Wars : Force Arena
|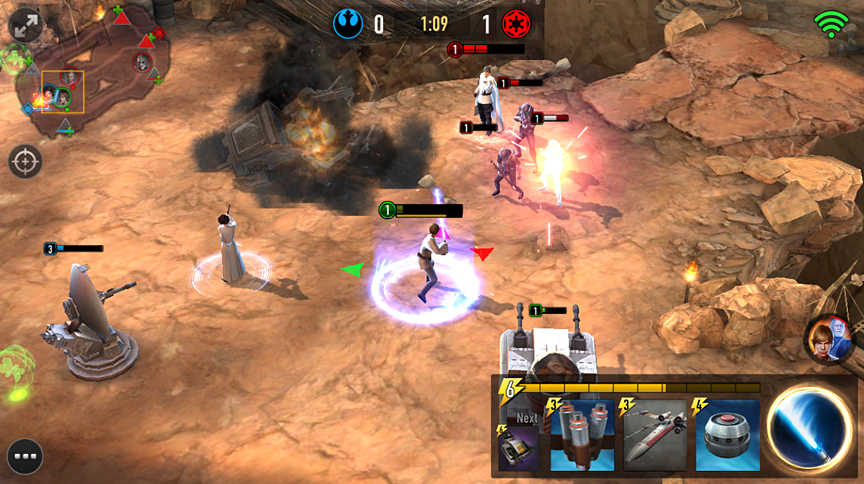 A côté du rouleau compresseur Battlefront et du vénérable The Old Republic, les autres jeux vidéos Star Wars peinent à se faire entendre. La faute à leur support mobile boudé peut-être ? Ou à leurs concepts la plupart du temps recyclés d'autres jeux existants ? Ou à leurs micro-transactions souvent très onéreuses ? Le débat est ouvert. Toujours est-il que l'on a aujourd'hui un petit nouveau qui vient d'être annoncé.
Développé par le studio corréen Netmarble Games, Star Wars : Force Arena est, comme son nom l'indique, un jeu d'arène en 1 contre 1 ou 2 contre 2, où chaque joueur forme une équipe en piochant parmi une soixantaine de personnages de la saga et de ses dérivés (par exemple Ezra de la série Rebels ou Aphra du comic Dark Vador). Entre deux combats, il sera possible d'ugrader ses personnages avec de l'équipement et autres boosts. Et il faudra bien sûr composer avec soin son équipe pour l'emporter, certains personnages octroyant de bonus les uns envers les autres.
Cela ne vous rappelle rien ? Vraiment ? Il n'y a pas un petit goût de Galaxy of Heroes là-dedans ? La seule différence notable parmi les informations disponibles est que Force Arena se joue en temps réel, tandis que Galaxy était en tour par tour….
Pas de date de sortie annoncée mais vous pouvez vous préinscrire sur le
Voilà pour aujourd'hui. Plus d'images sur le site (voir lien juste au-dessus).
C'était Ashlack qui ronge son frein en attendant l'annonce d'un vrai jeu…
Share and Enjoy