[Littérature] Compte-rendu du panel Delcourt et Panini à Cusset
|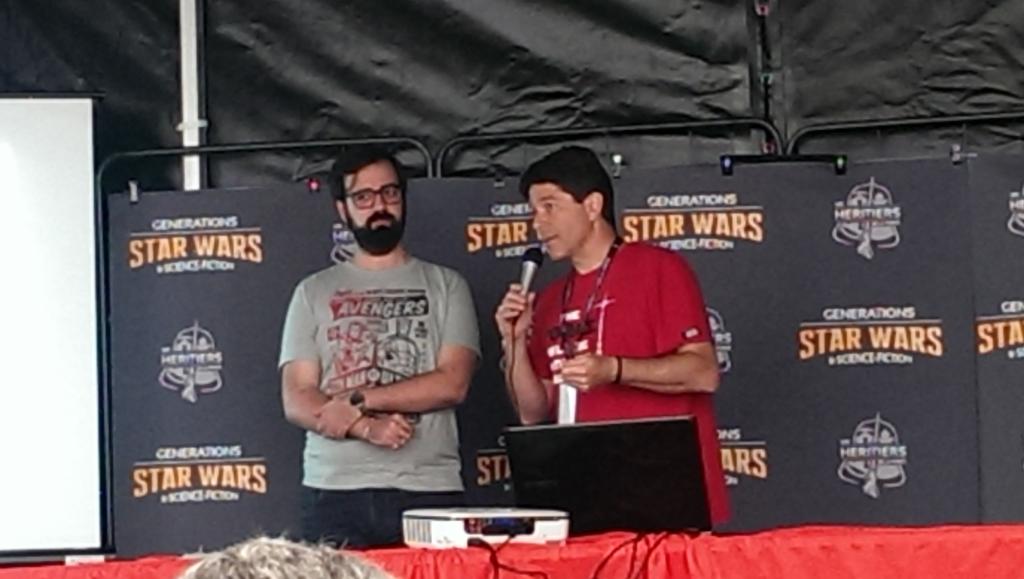 Bonjour à tous
Comme vous le savez, une partie du staff se trouve ce week-end à Cusset pour Générations Star Wars et Science-Fiction. Le panel Delcourt et Panini vient d'avoir lieu, avec Thierry Mornet pour le premier, et Aurélien Vives pour le second, et nous vous en proposons un compte-rendu, en direct du stand SWU.
Aurélien Vives (à gauche) et Thierry Mornet (à droite)
Voici les annonces du côté de Panini. Il s'agit du planning de cette fin d'année !
– En Octobre 2015 paraîtront en librairie le tome 1 de la série Star Wars et le tome 1 de la série Darth Vader. Pour mémoire, vous pouvez également lire ces deux séries dans le magazine STAR WARS dont le premier numéro sort en kiosque lundi 4 Mai.
– En Novembre 2015 paraîtront en librairie la BD Princess Leia (il s'agit d'une BD en cinq numéros) et du tome 1 de la série Kanan. Ces deux séries ne sortiront qu'en librairie, en Novembre donc.
– Enfin, en Décembre 2015 paraîtra la BD Shattered Empire (qui fait partie du programme Journey to the Force Awakens), BD comportant 4 tomes aux USA dont la parution est prévue pour Octobre et Novembre. Nous aurons donc la série en France un mois après la fin de celle-ci aux USA).
Passons maitenant aux annonces de Delcourt.
– Delcourt publiera en Octobre, Novembre et Décembre (respectivement) les adaptations jeunesse des épisodes IV, V et VI. Ces adaptations jeunesse ne sont pas encore parues aux USA (mais ça ne saurait tarder…)
– L'adapatation jeunesse de l'épisode VII paraîtra également chez Delcourt mais plus tard, aux environs du mois de Mars (Disney ne veut pas de sortie avant) au moment de la sortie en DVD/BR de l'épisode VII.
– La série Star Wars Classic va continuer son bonhomme de chemin au rythme de 2 numéros par an (le tome 3, pour rappel, sera disponible en Juillet).
– Les tomes 2 et 3 de la série Dark Vador (donc le premier tome, paru il y a quelques jours, contient l'intégrale des récits Purge) seront composés de Dark Vador et la Prison Fantôme pour l'un, et Dark Vador – Terreur dans les Ténèbres, deux récits publiés dans le Star Wars Comics Magazine.
– Les séries L'Ordre Jedi et Le Côté Obscur continueront, soit avec des récits jamais publiés, soit avec des récits publiés dans les mags.
– Une surprise sera là à la fin de l'année, mais Thierry Mornet n'a rien voulu dire, même sous la pression de darfunifuteur.
C'est tout pour ce compte-rendu, on vous attend sur les forums !
Share and Enjoy