[Littérature] Critique The Moviemaking Magic of Star Wars: Creatures & Aliens
|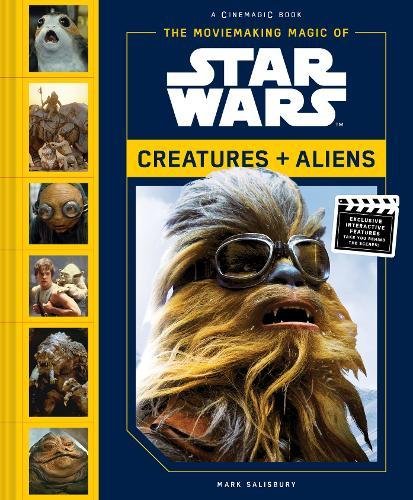 Voilà un joli petit livre bien sympa qui a su se faire désirer.
En effet, pour la petite histoire, ce livre devait sortir en septembre 2017, faisant parti du projet "Journey to Star Wars : The Last Jedi".
Mais, il a été repoussé au 15 décembre 2017 pour coïncider avec la sortie de l'Episode VIII.
Raté.
Finalement, Ce sera pour le 25 mai 2018 avec la sortie du second spin-of sur Solo.
La couverture à été modifiée, entre temps, pour mieux coller à l'actualité.
Cet ouvrage passe en revue les créatures et les aliens les plus emblématiques de la Saga de l'Episode IV à l'Episode VIII en passant par Rogue One et Solo. Le tout dans l'ordre de sortie des films.
Pour chaque créature ou alien, on a un texte explicatif sur comment a évolué l'apparence, sur comment a été utilisé le résultat final et avec quelle méthode (animatronique, image de synthèse, costumes, maquillage, stop-motion …). Et ce sont les personnes concernées qui présentent leur travail..
Et comme accompagnement, on a pas mal d'illustrations avec des dessins conceptuels, des images issues des films, des photos sur l'envers du décor.
Pour les créatures et aliens secondaires, on a une page de présentation (Bantha, Wampa, Ackbar, Sebulba, Dexter Jettster, Bobbajo, les Porgs, Lady Proxima, etc…) mais pour les personnages plus importants, on peut avoir 4 pages comme pour Yoda, Chewbacca, Jabba, Jar Jar ou le Rancor.
Ce livre contient également des petits bonus qui ajoutent un certain cachet. On a parfois des petits fascicules (collés sur une page) de plusieurs pages, des encarts de 2 ou 3 feuillets et des dépliants qui montrent des dessins conceptuels supplémentaires ou l'évolution des personnages en image de synthèse jusqu'au rendu final.
Ces petits plus sont appréciables.
Evidemment, il manque des choses qu'on aurait bien aimé voir dedans. On a quelques pages, entre autres, sur les clients de la Cantina et sur les membres du palais de Jabba alors pourquoi n'avoir pas fait la même chose avec les divers Jedi dans la salle du conseil ou des joueurs de sabacc dans Solo. D'ailleurs, la partie sur Solo est trop courte.
Mais bon, cela reste un bon livre qui se lit très bien.
Creaturement vôtre.
ps : N'hésitez pas à mettre votre avis sur la fiche du livre si vous le possédez.
Share and Enjoy