[Littérature] MAJ 2 Spoiler Quatre romans jeunesses annoncés
|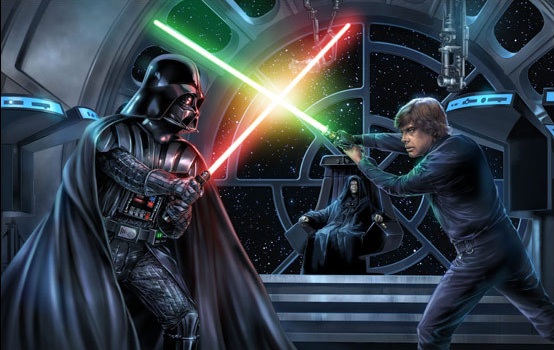 [MAJ2] MAJ la plus rapide, 2ème !
Le roman sur Han Solo a également un titre : Smuggler's Run (que l'on pourrait traduire par "La course du contrebandier").
Et le dernier sur tous les nouveaux personnages devrait s'appeller Lost Stars soit "Etoiles Perdues".
——————————————————————————————————————————————————————————————-
[MAJ] Je viens sans doute de réaliser la MAJ la plus courte du site !
Pendant que j'écrivais la news, d'autres infos nous sont parvenues :
Il y aura un total de quatre livres qui sortiront tous le 4 Septembre.
Trois d'entre eux seront centrés sur les héros principaux de la Trilogie Originelle (aka Luke, Leia et Han), le dernier quand à lui devrait parler des nouveaux personnages de l'Episode VII.
Finalement on nous a aussi appris le titre de celui sur Leia qui sera "Moving Target", ce qui nous donnerait "Cible Mouvante".
On peut donc encore un fois en parler sur les fofo, j'ai créé un sujet, le lien se trouve en bas
Enjoy.
——————————————————————————————————————————————————————————————-
Bonsoir les geeks !
On vous l'avait peut être annoncé ou peut être pas, on avait peut être juste fait un petit post fofo car ça ne méritait pas une actu, bref je m'en souviens plus trop !
Ceci étant dis je vous rappelle (ou pas) qu'une série de romans jeunesse est prévue, dont tous les livres seraient en lien avec l'Episode VII. Cette série de romans devrait être sobrement intitulée : "Journey to Episode VII" ce qu'on pourrait traduire par "Voyage vers l'Episode VII".
Et bien le premier de ces livres a été officiellement annoncé et s'appellera "Weapon of a Jedi: A Luke Skywalker Adventure" ce qui donnerait dans notre belle langue : "L'Arme d'un Jedi : Une Aventure de Luke Skywalker"
Ce livre devrait résumer les aventures de notre tête blonde préférée pendant la trilogie originale pour ensuite faire le lien avec l'Episode VII !
Vous l'aurez donc compris ce livre parlera de Luke et de son sabre ce qui n'est pas sans nous rappeler un certain nombre de rumeurs sur le sujet !
MAIS ca restera un livre jeunesse.
Pour rappel quand on parle du sabre de Luke on suppose qu'on parle de celui qu'il a construit lui même donc le vert, même si la question se pose puisque dans les rumeurs on parlait plus de celui de son père donc le bleu, le mystère reste entier…
On en parle sur le fofo dès que j'aurai créé un sujet ou trouver un qui correspond !
Share and Enjoy