[Littérature] MAJ de résumés du mois d'avril !
|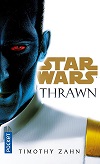 Comme chaque mois, l'heure est venue de la MAJ de résumés des romans, comics et nouvelles !
Commençons par un
Mais Star Wars, c'est aussi un univers Légendes qui persiste et signe ! L'une des plus anciennes séries jeunesses de cet univers, Les Apprentis Jedi, continue ainsi de se voir résumée. Nous vous proposons donc ce mois-ci de redécouvrir Périlleux sauvetage et Les liens les plus forts, respectivement les tomes 13 et 14 de cette longue série de Jude Watson nous narrant l'apprentissage Jedi d'Obi-Wan Kenobi au côté de son Maître Qui-Gon Jinn. Un grand merci à dark susy, en attendant la suite !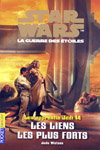 De mon côté, je me suis intéressé à la période du Destin des Jedi, et je vous propose les résumés des cinq dernières nouvelles dans l'ordre chronologique in-universe ! Vous pouvez ainsi vous (re)plonger dans les récits Imprint et First Blood, mettant tous deux en vedette Vestara Khai, Outcast Postcards (un moyen promotionnel original pour la série sous la forme de courts messages adressés par Ben Solo oups, mauvais Univers, Skywalker à sa cousine Jaina Solo) mais aussi Getaway et Good Hunting, deux nouvelles de Christie Golden avec Jaina Solo dans le rôle principal. Ces deux dernières nouvelles étaient sans doute des préquelles à la trilogie avortée Sword of the Jedi et représentent donc la dernière apparition de Jaina Solo, Jagged Fel, Tenel Ka et Allana !
Enfin, pour terminer cette MAJ, je vous propose les résumés de deux autres nouvelles : The adventures of Lanoree Brock, Je'daii Ranger qui se déroule plus de 25 000 ans avant la Bataille de Yavin et fait office au complément au roman L'Aube des Jedi de Tim lebbon, et Deep Spoilers de Ryder Windham. Vous avez aimé la course de pods de La Menace Fantôme ? A vous les courses sous-marines de bongos Gungans dans ce cas !
Et c'est ainsi que se conclut notre MAJ mensuelle ! Un grand merci à Niva et dark susy !
Rendez-vous le mois prochain pour une nouvelle MAJ qui devrait faire la part belle à l'Univers Officiel… je n'en dis pas plus ! En attendant, si vous souhaitez vous aussi participer à la grande aventure des résumés SWU, c'est par ici pour l'Univers Officiel et par là pour l'Univers Légendes !
Share and Enjoy