[Littérature] MAJ de résumés du mois de Mars !
|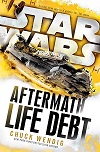 Bonjour à tous !
Commce chaque mois, le staff est heureux de vous présenter une nouvelle MAJ de résumés des oeuvres littéraires issus de notre saga préférée ! Au programme aujourd'hui, des romans adultes, un roman jeunesse, des nouvelles et même une mini-série de comics, le tout se partageant entre les deux Univers.
Commençons donc par l'Univers Officiel. Notre résumeuse bénévole liselotte nous gratifie de deux résumés, et pas des moindres : ceux de
Mais liselotte n'a pas été la seule à être active ce mois-ci : notre résumeuse Niva vous propose le résumé d'un morceau d'histoire de l'Univers Etendu Légendes, celui de son tout premier roman basé sur les idées de George Lucas avant que le succès de Star Wars ne le pousse à lancer la "véritable" suite qu'est L'Empire contre-attaque… j'ai nommé Splinter of the mind's eye ! A noter que le roman a été adapté par Dark Horse dans les années 1990, adaptation dont vous pouvez retrouver la VF intitulée La Pierre de Kaïburr dans les numéros 29 à 32 de Star Wars – La Saga en BD chez Delcourt !
De mon côté, pour accompagner ces résumés, je vous propose ceux de plusieurs nouvelles. D'un simple clic, vous pouvez donc (re)découvrir les récits Précipice, qui décrit la captivité d'Obi-Wan Kenobi sur Géonosis, Le dernier combat du colonel Jace Malcom, un récit nous narrant la dernière mission de Jace Malcom sur le terrain avant sa promotion, Alerte : flotte d'assaut, une nouvelle mettant en scène Obi-Wan Kenobi et Anakin Skywalker au début de la Guerre des Clones, La Voie des Ténèbres, un récit tie-in au roman Dark Plagueis (qui n'a toujours pas la chance d'être résumé *message subliminal*) ou encore vous plonger dans une Légende du Côté Obscur…
Et en raison de la récente sortie du roman Thrawn de Timothy Zahn (qui, lui non plus, n'a toujours pas de résumé *deuxième message subliminal*), nous terminons cette MAJ par les résumés de deux nouvelles du maître : Le marché de Lando, qui éclaircit un détail de La Croisade Noire du Jedi Fou, ainsi que Rencontre hasardeuse, ou la redécouverte de Thrawn par les forces Impériales ! Vous constaterez dans ce dernier récit de nombreuses ressemblances avec le début du roman Thrawn, ce qui semble prouver que dans Star Wars comme en chimie, rien ne se perd !
A noter que toutes ces nouvelles ont été traduites par les camarades des Chroniques Oubliées.
C'est tout pour ce mois-ci ! Un grand merci à nos deux résumeuses liselotte et Niva ! N'hésitez pas à contribuer, vous aussi, aux résumés de SWU : c'est par ici pour les résumés des oeuvres Légendes et par là pour ceux de l'Univers Officiel !
Share and Enjoy