[Littérature] MAJ de résumés du mois d'octobre
|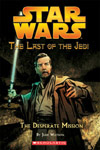 Bonjour à tous, c'est l'heure de notre MAJ mensuelle de résumés !
C'est encore et toujours l'inépuisable liselotte qui contribue à cette belle MAJ à travers neuf résumés, pour autant de romans jeunesses. Un grand merci à elle !
La série jeunesse Force Rebelle a été publiée tout au long de l'année 2016 par Pocket Jeunesse. Sur SWU, votre serviteur avait, il y a de cela bien longtemps, résumé les deux premiers tomes,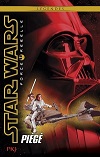 Mais avant Force Rebelle, la dernière série jeunesse en date était Last of the Jedi, une série en dix tomes écrite par Jude Watson, la spécialiste de ce format pendant la grande époque de la prélogie. Cette série se déroulait après l'Ordre 66 et narrait les aventures de l'ancien padawan Ferus Olin, rival d'anakin Skywalker pendant la série Jedi Quest.
Ces dix titres sont encore (et pour toujours, sans doute) inédits en VF et pour certains épuisés en VO, les résumés de liselotte sont donc un excellent moyen, si ce n'est le meilleur, de découvrir ces pépites de l'UE Légendes ! Vous pouvez donc (re)découvrir les six premiers romans de la saga, à savoir The desperate mission (tome 1), Dark warning (tome 2), Underworld (tome 3), Death on Naboo (tome 4), A tangled web (tome 5) et Return of the Dark Side (tome 6).
Encore une fois, merci à elle !
Nous vous rappelons que vous pouvez contribuer, vous aussi, aux résumés en nous contactant par ici pour l'UE Légendes et par là pour l'Univers Officiel ! Nous sommes toujours à la recherche de volontaires, et votre aide sera la bienvenue !
Share and Enjoy