[Littérature] Making Of The Moviemaking Magic of Star Wars: Creatures & Aliens
|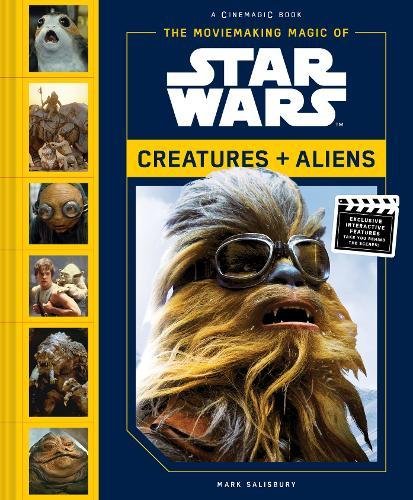 On peut dire que ce livre se fait désirer.
2 fois reporté, il devrait être dispo pour la sortie du film Solo : A Star Wars Story, le 25 mai 2018.
Sur plus de 144 pages, on découvre l'évolution de certaines créatures et certains aliens, en partant du dessin conceptuel jusqu'au résultat final vu à l'écran de cinéma. Chewbacca, Yoda, Jabba seront de la partie, et bien d'autres.
Selon les époques, on a des dessins crayonnés, des dessins digitaux.
Les 10 films Star Wars sont concernés dont Solo évidemment. Et ouais déjà 10 films Star Wars.
Apparemment, il y aura 20 éléments interactifs dont 6 pages qui s'ouvrent en accordéon au milieu du livre.
Donc, pour la petite histoire, ce livre devait sortir en septembre 2017, faisant parti du projet "Journey to Star Wars The Last Jedi".
Puis, il a été repoussé au 15 décemebre 2017 pour coïncider avec la sortie de l'Episode VIII.
Raté.
Finalement, Ce sera pour le 25 mai 2018 avec la sortie du second spin-of.
Et entre temps, la couverture à été modifiée pour plus coller à l'actualité.
Creaturement vôtre.
---
ps : vous pouvez surveillez les sorties des différents beaux livres, guides et autres ouvrages d'analyse de 2018 en VO via la partie "prochaines parutions" ven cliquant sur le bandeau ci-dessous.
Share and Enjoy