[Littérature] Résumés Grosse MàJ de juin avec 17 nouveaux textes
|
Petit coup de zèle avant l'été du côté des résumés : notre fantastique résumeuse bénévole liselotte nous gratifie de 13 résumés d'oeuvres de l'UE Officiel ce mois-ci ! En devançant même la publication VF pour certains romans, ce qui est suffisamment rare pour le souligner et la remercier pour son travail et sa réactivité!
L2-D2 termine en beauté cette MàJ par quatre résumés constituant l'intégralité de la série de comics Rébellion de l'UE Legends.
Je commence donc à vous présenter cette mise à jour avec les résumés de trois romans de l'UE Officiel encore inédits en France :
Poursuivons avec les résumes de trois romans jeunesse de l'UE Officiel. Il s'agit des trois premiers tomes de la série Adventures in Wild Space : The Escape, The Snare et The Nest.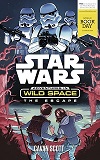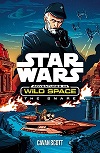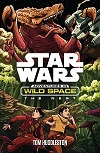 Enfin, l'amie liselotte s'est plongée dans le recueil de nouvelles de l'UE Officiel Tales from a Galaxy Far Far Away et nous en résume ses six histoires courtes : A Recipe for Death, All Creatures Great and Small, High Noon on Jakku, The Crimson Corsair and the Lost Treasure of Count Dooku, The Face of Evil et True Love.
Petite cerise sur l'immense gateau que nous offre liselotte ce mois-ci : le résumé en bonus de la nouvelle Blade Squadron – Zero Hour.









L'UE Legends n'est pas oublié dans cette MàJ. L2-D2 nous résume en effet l'intégrale de la série Rébellion, soit 4 résumés : Mon frère, mon ennemi (Rebellion #01 à 05), Le sacrifice d'Ahakista (Rebellion #06 à 10), Petites victoires (Rebellion #11 à 14) et la troisième partie de Vector (Rebellion #15 et 16).


Encore un grand merci à nos résumeurs du mois liselotte et L2-D2! Je vous rappelle que vous pouvez vous aussi participer à SWU en proposant vos résumés, c'est par ici que ça se passe :
Topic pour les résumés UE Officiel
Topic pour les résumés UE Legends
Bonne lecture !
Share and Enjoy