[Littérature] Résumés MàJ de la rentrée avec 12 nouveaux textes
|

En ce mois de rentrée, le staff litté s'est mis en quatre (enfin en trois… plutôt) pour vous proposer une jolie vague de mise à jour des résumés d'oeuvres litté Star Wars.
En effet aves mes collègues Lain et L2, nous vous proposons encore une fois un peu de tout : de l'Officiel, du Legends, des comics, des romans jeunesse, mais aussi quelques nouvelles !
Je commence cette MàJ avec l'UE Officiel, en vous présentant le résumé du premier arc de la série de comics centrée sur le personnage de
Toujours dans l'UE Officiel, l'ami L2-D2 nous gratifie également des résumés des nouvelles Orientation et Heure de fermeture à l'Angle Mort (Last Call at the Zero Angle) ainsi que du roman jeunesse L'Ultime Combat (Battle to the end).
Côté Legends, L2-D2 nous propose cette avalanche de résumés : les comics Obsession, Loyautés, l'Avènement de Vador (Republic #78), Boba Fett : Semeur de Mort (Boba Fett : Agent of Doom), L'art de faire des affaires (The Art of the Bad Deal) et la nouvelle Incognito.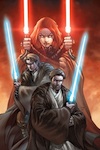 Je finis avec deux derniers résumés pour la route, écrits par votre serviteur: ceux des tomes 7 et 8 de la série Les Apprentis Jedi : Le Temple Assiégé (The Captive Temple) et Le Jour du Jugement (The Day of Reckoning).
Encore merci à nos résumeurs bénévoles pour ces nouveaux textes !
Nous vous rappelons que vous pouvez vous aussi participer à SWU en proposant vos résumés, c'est par ici que ça se passe :
Topic pour les résumés, c'est ici
Bonne lecture !
Share and Enjoy