[Littérature] Résumés MàJ de mars avec 11 nouveaux textes
|
Et non, l'Univers Etendu Legends n'est pas mort et enterré! On vous le rappelle de temps en temps sur SWU en vous faisant profiter de belles mises à jour du contenu encyclopédique se rapportant à des oeuvres Legends, et on en rajoute une couche aujourd'hui avec cette fois des résumés de livres et de comics!
Ce sont donc aujourd'hui 11 nouveaux résumés d'oeuvres de l'UE Legends qui viennent compléter notre site.
L2-D2 a fort bien bossé ce mois-ci et vous offre 8 résumés qui clôturent la série Empire, avec les issues #23 à 40 :


Ne s'arrêtant pas là, il a également résumé le stand alone Une Histoire de Saint Valentin (A Valentine Story).
De mon côté, je vous propose la suite et fin de la série de romans junior Jedi Quest avec les tomes 9 et 10 : The False Peace et The Final Showdown.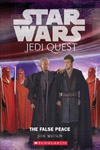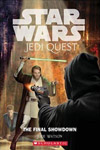 Nous vous rappelons que vous pouvez vous aussi participer à SWU en proposant vos résumés, c'est par ici que ça se passe :
Topic pour les résumés, c'est ici
Bonne lecture !
Share and Enjoy