[Littérature] Résumés MàJ de novembre avec 6 nouveaux textes
|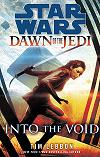 Petite mais intense mise à jour de résumés sur SWU ce mois-ci, avec deux nouvelles de l'Univers Officiel, et l'intégralité de la période pré-républicaine de l'UE Legends!
Commençons donc par l'UE Officiel, avec les résumés de deux nouvelles parues dans l'anthologie The Rise of the Empire : Bottleneck et Mercy Mission. Ces deux résumés sont signés liselotte, que nous ne manquerons donc pas de remercier.
Concernant la partie UE Legends, L2-D2 a à nouveau fort bien travaillé ce mois-ci, en venant compléter le résumé de


Encore un grand merci à nos résumeurs du mois liselotte et L2-D2! Je vous rappelle que vous pouvez vous aussi participer à SWU en proposant vos résumés, c'est par ici que ça se passe :
Topic pour les résumés UE Officiel
Topic pour les résumés UE Legends
Bonne lecture !
Share and Enjoy