[Littérature] Sollicitations Marvel d'Avril
|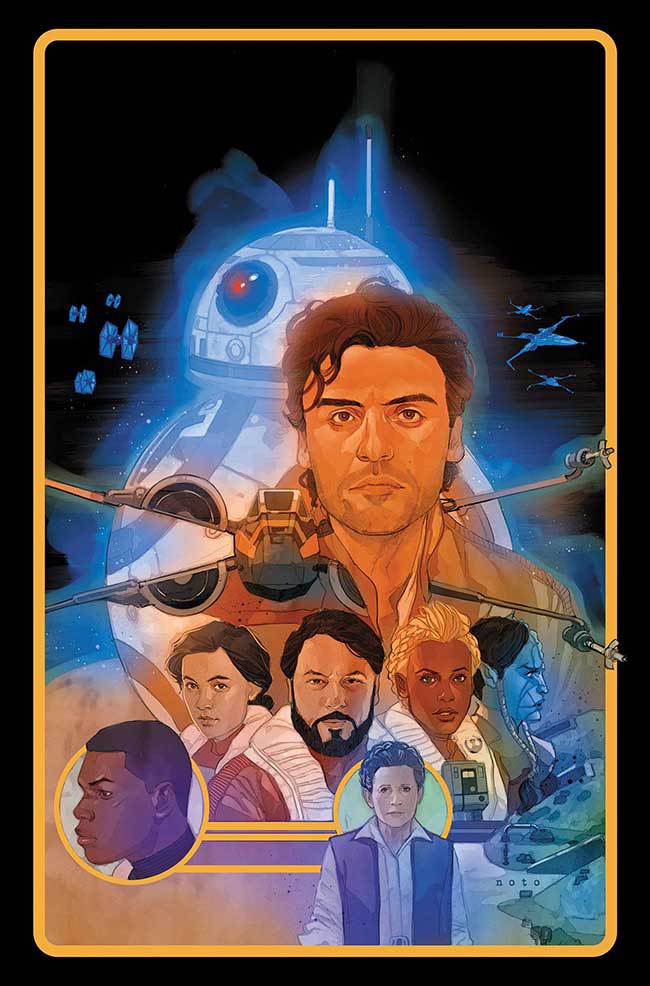 Bonsoir à tous
Voici la liste des comics à paraître chez Marvel au mois d'Avril !
Comme annoncé le mois dernier, la série Poe Dameron continue bien après le numéro 25, avec un nouvel arc qui portera dans un premier temps sur l'Episode 7 !
Poe Dameron #26
écrit par Charles Soule
dessins de Angel Unzueta
couverture par Phil Noto
En vente le XX Avril, 32 pages
- Lor San Teka a été retrouvé et Poe Dameron est sur le point de récuperer la pièce manquante pour retrouver Luke Skywalker.
– Mais son plan est mis en déroute quand le Premier Ordre intervient sur Jakku
– Suivez les aventures de Poe pendant les événements inédits du Réveil de la Force
Darth Vader – Dark Lord of the Sith #14 et #15
écrit par Charles Soule
dessins de Giuseppe Camuncoli
couverture par Giuseppe Camuncoli & Elia Bonetti
En vente le XX Avril, 32 pages
Dark Vador continue sa mission visant à mettre à genoux Mon Cala ! Alors que l'Empereur ressere sa poigne sur la galaxie, aucune rébellion ne sera tolérée … surtout pas lorsqu'elle est orchestrée par un ancien Jedi. Vador va donc devoir se mouiller dans cette histoire brutale.
Star Wars (Marvel) #46
écrit par Kieron Gillen
dessins de Salvador Larroca
couverture par David Marquez
En vente le XX Avril, 32 pages
La Rébellion continue sa mission pour libérer Mon Cala ! La Princesse Leia a un plan presque impossible pour unir la planète à l'Alliance Rebelle, un plan qui compte sur le talent unique et sa connaissance des différentes cultures, le seul, l'unique et incomparable … C-3PO !
Doctor Aphra #19
écrit par Kieron Gillen et Simon Spurrier
dessins de Emilio Laiso
couverture par Ashley Witter
En vente le XX Avril, 32 pages
- Triple Zéro le génie droide machiavélique est en train de faire chanter le Doctor Aphra en mencant de vendre ses vieux souvenirs …
– … qui comprenent une infiltration au sein de terrains d'entrainement Rebelles dirigés par le Général Syndulla.
– Maintenant traquée à la fois par Hera de la Rébellion et Tolvan de l'Empire, Aphra à beaucoup de quoi penser …
– Mais si il y a quoi que ce soit à savoir sur le Docteur, c'est qu'elle a toujours un tour dans son sac électronique.
Thrawn #3/6
écrit par Jodi Houser
dessins de Luke Ross
couverture par Paul Renaud
En vente le XX Avril, 32 pages
L'ascention du grand amiral continue !
- Le lieutenant Thrawn progresse rapidement au sein des rangs de l'Empire mais il n'est pas le seul …
– Rencontrez Arindha Pryce, alors qu'elle progresse aussi au sein du milieu politique corompu de Coruscant.
– Mais les chemins se croisent d'une façon mystérieuse alors que chacun découvre un sombre secret au coeur de l'Empire
Voilà pour aujourd'hui, on attend vos réactions sur les forums.
Share and Enjoy