[Littérature] Sollicitations Marvel de Janvier 2019
|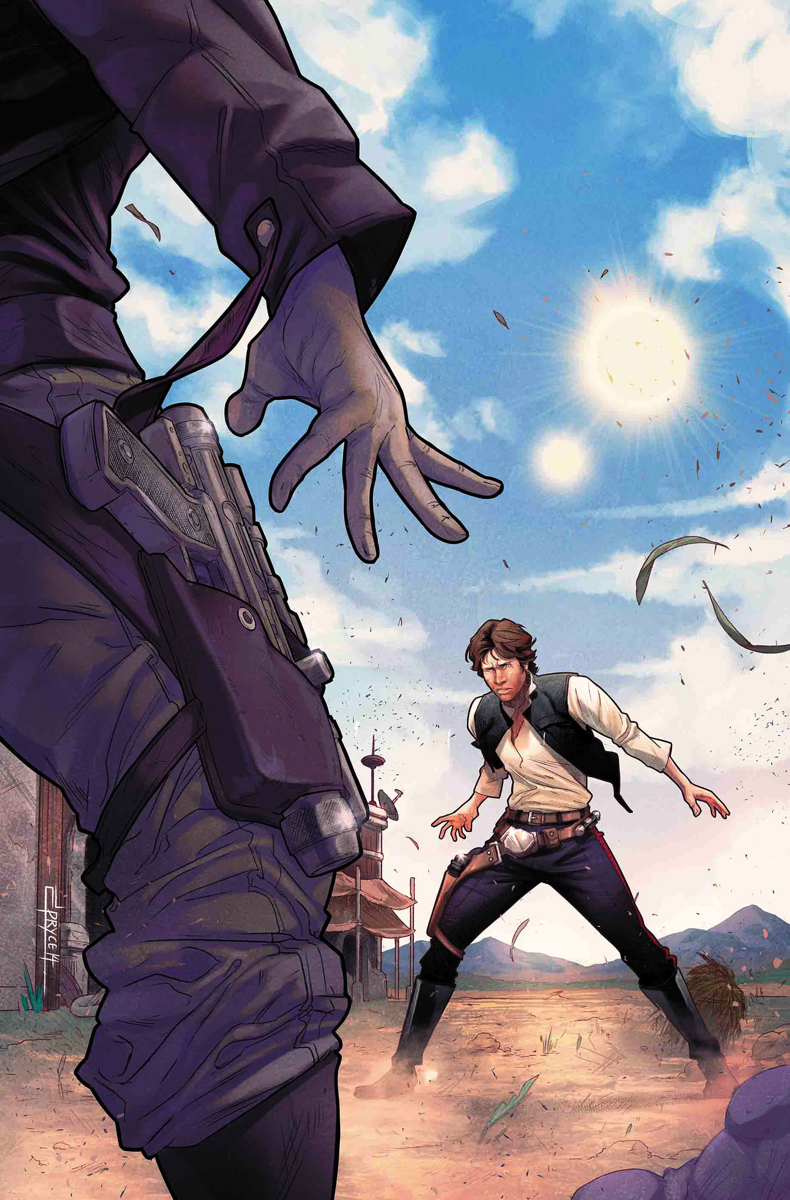 Bonsoir à tous
Voici la liste des comics à paraître chez Marvel au mois de Janvier 2019 ! La grosse surprise, c'est l'absence de la mini-série Shadow of Vader, annoncée lors de la Comic-Con de New-York. La récente affaire avec son scénariste, Chuck Wendig, licencié par Marvel suite à ses propos sur Twitter, en est sûrement la cause. A voir si la série va être reportée ou si elle est simplement annulée.
Star Wars (Marvel) #59 & 60
écrit par Kieron Gillen
dessins de Angel Unzueta
couvertures par Jamal Campbell
En vente les 9 et 23 Janvier, 32 pages
"The Escape", partie 4.
– Luke, Leia et Han restent piégés sur la lune isolée de Hubin et combattent l'Empire.
– Qui a dit qu'ils voulaient partir ?
– Mais leur cachette ne va pas rester secrète… surtout pour de vieux amis sur la trace des rebelles.
"The Escape", partie 5.
– Vous pouvez fuit l'horreur de la galaxie.
– Mais seulement pour un temps.
– Le retour de l'Escadron SCAR.
Doctor Aphra #28
écrit par Simon Spurrier
dessins de Emilio Laiso
couverture par Ashley Witter
En vente le 30 Janvier, 32 pages
"Worst Among Equals", partie 3
– Avec une énorme prime sur leur tête, l'archélogue Docteur Aphra et son droide compagnon meurtrier 0-0-0 sont chassés où qu'ils aillent.
– De tous les poursuivants, vous pourriez penser que le danger le plus grand vient de l'Empire… ou du chasseur de primes mort-vivant dérangé… ou des impitoyables chasseurs de monstres… non ?
– Non. Car toute la population s'est branchée pour voir la chasse par les yeux de 0-0-0, et tout le monde n'a d'yeux que pour cette récompense…
Solo: A Star Wars Story #4/7
écrit par Robbie Thompson
dessins de Will Sliney
couverture par Phil Noto
En vente le 30 Janvier, 32 pages
LE RAID DE KESSEL !
– Han, Chewbacca et Qi'ra ont une chance d'empêcher Dryden Vos de les tuer…
– … s'associer à Lando et L3 pour réussir l'impossible Raid de Kessel !
– Mais s'ils réussissent, Enfys Nest leur dérobera-t-elle leurs biens volés ?
Han Solo: Imperial Cadet #3/5
écrit par Robbie Thompson
dessins de Leonard Kirk
couverture par David Nakayama
En vente le 2 Janvier, 32 pages
CASINO ROYALE!
– Han Solo est rétrogradé pour insubordination, entraînant ses camarades cadets avec lui. Ils passent de voler dans des chasseurs TIE à voler dans un immense vaisseau container.
– L'expertise de Han en pilotage divise le temps de vol du vaisseau par deux, leur permettant de s'arrêter à un casino pour du temps de repos et de récupération durement acquis.
– Mais les camarades de Han apprennent rapidement que cette petite pause n'était pas autorisée par l'Empire, et qu'ils sont désormais tous considérés comme déserteurs !
Age of Republic #3: Obi-Wan Kenobi
écrit par Jody Houser
dessins de Cory Smith
couverture par Paolo Rivera
En vente le 2 Janvier, 32 pages
Les premiers jours d'Obi-Wan Kenobi, Chevalier Jedi.
– Suivant les souhaits de son Maître, Obi-Wan a pris Anakin Skywalker comme apprenti.
– Cette mission avec son Padawan les rapprochera-t-elle, ou sèmera-t-elle les graines qui les déchireront ?
– Et qui d'autre est à la poursuite de l'ancien holocron qu'ils recherchent ?
Age of Republic #4: Jango Fett
écrit par Jody Houser
dessins de Luke Ross
couverture par Paolo Rivera
En vente le 9 Janvier, 32 pages
Le chasseur de primes le plus craint de la galaxie !
– La réputation de Jango Fett le précède alors qu'il rejoint une équipe pour ce qui semble être une simple mission.
– Attendez, est-ce bien un enfant avec lui ?
– Est-ce que ses camarades chasseurs de primes seront assez fous pour oser trahir Jango Fett et son fils Boba ?
Age of Republic Special #1
écrit par Ethan Zachs, Jody Houser, Marc Guggenheim et Chip Zdarsky
dessins de Carlo Gomez, Paolo Villanelli, Caspar Wigaard et d'autres…
couverture par Rod Reis
En vente le 16 Janvier, 40 pages
- Le plus formidable Jedi de la galaxie a un compte à régler !
– Vous pouvez fuir, mais pouvez-vous échapper au double sabre meurtrier de l'assassin Sith Asajj Ventress ?
– Le rôle de Jar Jar Binks dans Star Wars est-il terminé ? Pas le moins du monde !
– Vous pouvez faire quitter la guerre à un clone, mais la guerre ne le quittera jamais !
Voilà pour aujourd'hui, on attend vos réactions sur les forums.
Share and Enjoy