[Littérature] Sollicitations Marvel de Mai
|
Bonsoir à tous
Voici la liste des comics à paraître chez Marvel au mois de Mai !
On a droit au début de la mini-série sur Lando, comme annoncé en fin de semaine dernière. Et plein d'autres choses !
Poe Dameron #27
écrit par Charles Soule
dessins de Angel Unzueta
couverture par Phil Noto
En vente le 16 Mai, 32 pages
Poe Dameron a réussi à échapper au
Darth Vader – Dark Lord of the Sith #16
écrit par Charles Soule
dessins de Giuseppe Camuncoli
couverture par Giuseppe Camuncoli & Elia Bonetti
En vente le 9 Mai, 32 pages
Vador et ses Inquisiteurs mènent une escouade d'élite de soldats clones afin de débusquer le traître Jedi sous les eaux de Mon Cala… et les océans brûleront sous leur colère.
Star Wars (Marvel) #47 et 48
écrit par Kieron Gillen
dessins de Salvador Larroca
couverture par David Marquez
En vente les 2 et 23 Mai, 32 pages
Le combat de la Rébellion pour libérer Mon Cala continue ! Pendant que Leia, Han et Luke entreprennent un sauvetage dangereux et presque impossible, C-3PO doit poursuivre sa mission vitale… flâner à l'opéra ?
Doctor Aphra #20
écrit par Simon Spurrier
dessins de Kev Walker
couverture par Ashley Witter
En vente le 23 Mai, 32 pages
Aphra est derrière les barreaux. Encore. Mais cette fois-ci, elle se retrouve en détention Impériale, attachée à un émetteur explosif synchronisé à un droide. Elle s'éloigne trop ? BOUM ! Normalement, rester immobile ne serait pas un problème pour Aphra – mais que va-t-il se passer lorsque ses geôliers enverront le droide en zone de guerre ? Et quelle est cette rumeur disant que la prison est hantée ?
Thrawn #4/6
écrit par Jodi Houser
dessins de Luke Ross
couverture par Paul Renaud
En vente le 9 Mai, 32 pages
L'ascension de Thrawn au sein de l'Empire continue de la seule façon dont il pouvait rêver. Pendant ce temps, Eli Vanto est toujours coincée dans la même position qu'à la sortie de l'Académie : aide de Thrawn. Mais l'obsession de Thrawn à poursuivre le mystérieux seigneur du crime Nightswan mènera-t-il les deux Impériaux à la réussite aux yeux de l'Empereur ? Au sein de l'Empire, l'aide vient d'endroits mystérieux…
Lando: Double or Nothing #1/5
écrit par Rodney Barnes
dessins de Paolo Villanelli
couverture par W. Scott Forbes
En vente le 30 Mai, 32 pages
Lorsqu'une jolie seigneur du crime engage le vaurien le plus talentueux de la galaxie pour aider à libérer son peuple asservi par l'Empire, Lando Calrissian doit tout miser sur une mission impossible pleine de dangers. Juste avant les événements de Solo: A Star Wars Story, notre charmant contrebandier doit faire face aux forces Impériales avec l'aide de son vaisseau, le Faucon Millenium, dans une course mortelle contre le temps. Mais même avec les mauvaises cartes en main, Lando ne peut pas s'empêcher de jouer.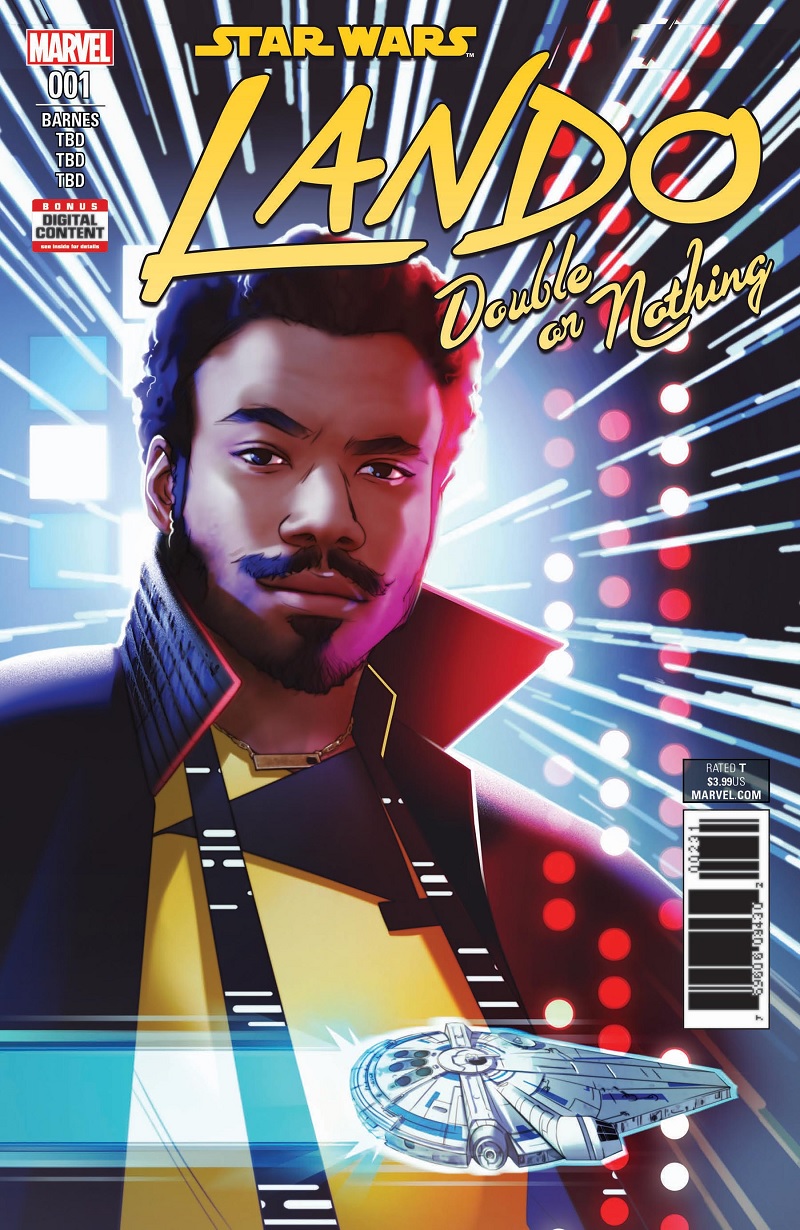 Star Wars Annual #4
écrit par Cullen Bunn
dessins de Marc Laming, Roland Boschi et Ario Anindito
couverture par Tradd Moore
En vente le 23 Mai, 40 pages
Attachez vos ceintures, fans de course – nous allons faire une course de modules ! Amenez votre argent, car cela va être une course à hauts enjeux, avec le rebelle Luke Skywalker, la contrebandière Sana Starros, et même un certain Seigneur Noir aux aguets ! Faites vos jeux !
The Last Jedi #1 et 2 (sur 6)
écrit par Gary Whitta
dessins de Michael Walsh
couvertures par Mike del Mundo (#1) et Kamome Shirahama (#2)
En vente les 2 et 16 Mai, 40 pages (#1) et 32 pages (#2)
La Résistance a retrouvé Luke Skywalker ! Mais le Premier Ordre est sur leurs traces… et ils ont soif de sang.
Tag & Bing were Here #1
écrit par Kevin Rubio
dessins de Lucas Marangon & Rick Zombo
couverture par Lucas Marangon
En vente le 31 Mai, 112 pages
Réédition comprenant STAR WARS: TAG & BINK ARE DEAD #1-2, STAR WARS: TAG & BINK II #1-2 et un récit de STAR WARS TALES #12.
Voilà pour aujourd'hui, on attend vos réactions sur les forums.
Share and Enjoy