[Postlogie] Rumeur : Matt Smith joue-t-il un jeune Palpatine dans Star Wars : Episode IX ?
|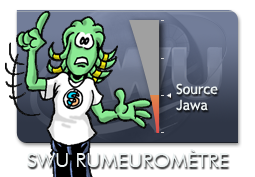 Le podcast The Weekly Planet, qui eu quelques scoops sur Solo : A Star Wars Story, prétend avoir entendu dire que Matt Smith jouerait un jeune Palpatine dans Star Wars : Episode IX. Il aurait une présence non négligeable dans le film.
L'Empereur, dont le nom de Sith est Dark Sidious, est canoniquement mort dans Le Retour du Jedi, lors de la bataille d'Endor.
The Weekly Planet ignore le contexte de sa prétendue réapparition sous une forme jeune dans l'Episode IX. Le verra-on lors de flashbacks ? Ou bien a-t-il été cloné, comme dans les comics L'Empire des Ténèbres (qui ne sont plus canon) ? Ou un personnage le visitera-t-il dans dans le passé grâce au Monde entre les mondes, un endroit mystique introduit dans la série animée Star Wars Rebels ?
La presse a révélé en août dernier la participation de Smith à l'Episode IX, sans que cela ait été confirmé par Lucasfilm. L'acteur a notamment joué dans les séries Doctor Who et The Crown.
Cette rumeur est à prendre avec prudence pour le moment. The Weekly Planet précise n'avoir aucune certitude sur sa véracité.
Star Wars : Episode IX sortira en décembre 2019.
Share and Enjoy