[Rebels] Star Wars Rebels renouvelée pour une saison 4 !
|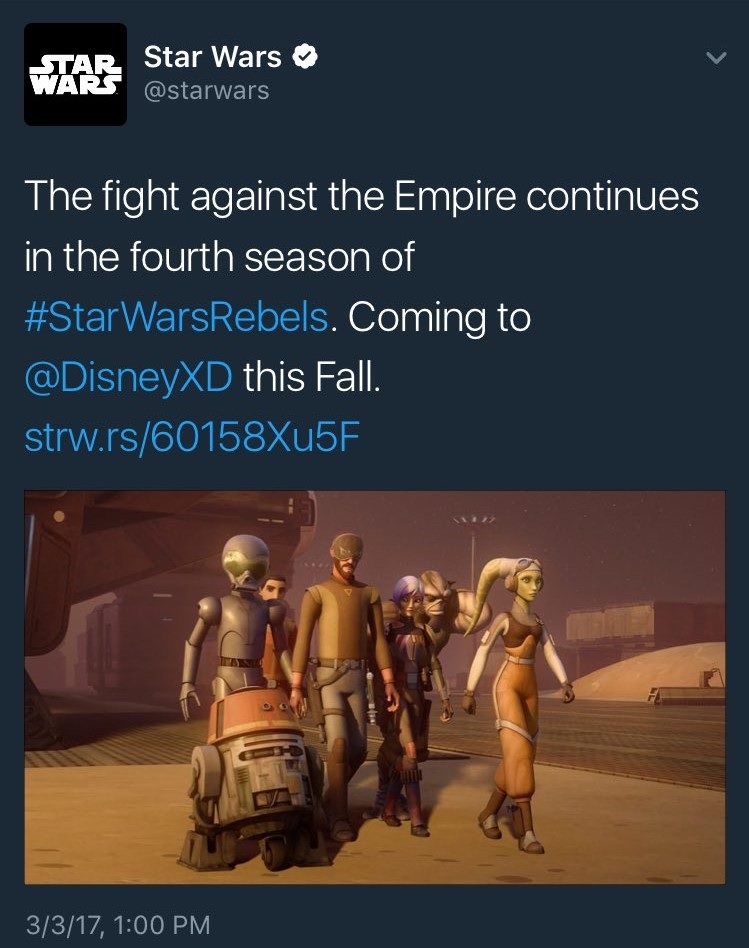 Bonsoir à tous
L'annonce a tardé à venir par rapport aux saisons précédentes, mais c'est désormais chose faite : Star Wars Rebels est renouvelée pour une saison 4 !
C'est le compte Twitter officiel de Star Wars qui a dévoilé l'information, mais le tweet a été supprimé depuis, et le lien vers le site officiel est pour l'instant mort. Espérons que le Community Manager du compte ne soit pas trop sévèrement puni, et que cette erreur envers nous ne soit pas la dernière.
Bref, martinouchou, membre de notre forum, a réussi à prendre une capture d'écran avant la suppression du tweet :
Vous le voyez donc : la saison 4 débutera donc cet automne sur Disney XD. La saison 3 est actuellement en cours de diffusion aux USA (il reste 4 épisodes) et en France également. N'hésitez pas à consulter la page des prochaines parutions pour être au courant des futures diffusions.
Le tweet est encore présent sur le compte de Star Wars UK.
The fight against the Empire continues in the fourth season of #StarWarsRebels. Coming to @DisneyXD this Autumn:https://t.co/WdDCMZm4nP pic.twitter.com/Z9yR1pk4XE

— Star Wars UK (@StarWarsUK) 3 mars 2017
On attend vos réactions sur les forums.
Share and Enjoy