[Star Wars Stories] James Mangold serait scénariste et réalisateur d'un futur film sur Boba Fett (MàJ)
|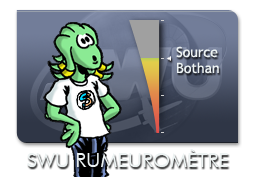 [Mise à jour] The Hollywood Reporter a clarifié le rôle de Simon Kinberg.
***
The Hollywood Reporter, généralement fiable, prétend que James Mangold est en train d'écrire un film Star Wars Story sur Boba Fett, qu'il réalisera lui-même. Le magazine n'a pas obtenu de détails sur l'histoire, et ignore la date de sortie prévue pour le film.
Mangold a récemment écrit et réalisé Logan, un film sur le super-héros Wolverine ayant connu un grand succès critique. Il a également réalisé Wolverine : Le Combat de l'Immortel, Night and Day, 3h10 pour Yuma, et écrit et réalisé Walk the Line et Cop Land.
The Hollywood Reporter ajoute que Simon Kinberg serait co-scénariste et producteur du film sur Boba. Il a écrit X-Men : Apocalypse, X-Men : Days of Future Past et des épisodes de la série animée Star Wars : Rebels, entre autres. Il a déjà collaboré avec Mangold sur Logan, dont il était producteur.
La trilogie originale nous avait montré un Boba Fett adulte, chasseur de primes au service de Jabba le Hutt. L'Attaque des Clones l'avait montré adolescent, accompagnant son père Jango Fett dont il est un clone. The Clone Wars avait raconté ses premiers pas en tant que chasseur de primes.
Même en prenant en compte le reste du canon, il reste une grande marge de manoeuvre pour un film sur Boba. On pense notamment à la vingtaine d'années séparant la Guerre des Clones et son apparition dans Un Nouvel Espoir. Le spin-off pourrait également se dérouler à l'époque de la trilogie originale, voire après, si Lucasfilm décide que le chasseur de primes a survécu à son avalement par le Sarlacc.
À noter que Daniel Logan, qui a joué Boba dans L'Attaque des Clones et qui a désormais trente ans, a déclaré son désir de reprendre le rôle.
D'après une ancienne rumeur, le film Star Wars qui devait être réalisé par Josh Trank était centré sur Boba. Mais ce film, prévu pour 2018, avait été annulé suite à la mise à l'écart de Trank. Kinberg était déjà impliqué sur le projet à l'époque.
The Hollywood Reporter avait déjà affirmé qu'un film sur Obi-Wan Kenobi était en développement, et que Stephen Daldry était en discussions pour le réaliser. Pour le moment, Lucasfilm n'a fait aucune annonce officielle sur les spin-off qui suivront Solo.
Share and Enjoy