[SWU] Résumé du mois de Décembre
|
Nous sommes la première semaine du mois, et voici donc le résumé des principales informations du mois dernier !
Le mois dernier, c'était bien sûr la sortie de Star Wars Episode VIII – Les Derniers Jedi. Un film qui a fait , le roman jeunesse Cobalt Squadron, le comics The Storms of Crait, auxquels on rajoutera les sorties de septembre : les romans Leia – Princess of Alderaan, Phasma, et le comics Captain Phasma. Et si vous n'en avez pas encore assez, un comics consacré à DJ sortira à la fin du mois de janvier !
En jeux vidéo, on signalera bien sûr la sortie de nouveaux chapitres pour Battlefront II, et un mini-jeu Facebook nommé Porg Invasion. Mais il faut aussi compter sur les autres produits dérivés : des cartes à collectionner, des LEGO, des Hot Toys de Luke et Leia… Sans oublier les précommandes d'un nouveau Stormtrooper chez Kotobukiya.
Et sur SWU on a accompagné le mouvement avec un concours de dessins, et encore un évènement avec des conférences quelques jours avant la sortie du film !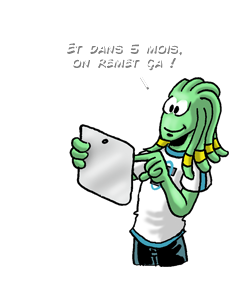 En dehors de l'Episode VIII, parlons de Solo – A Star Wars Story qui arrive dans 140 jours ! Peut-être pour faire oublier la fuite d'une affiche plutôt explicite, Lucasfilm a annoncé le retour de John Williams pour composer une musique du film… Peut-être le thème du contrebandier ?
Restons sur une Star Wars Story avec un discret retour de Rogue One : une extension du jeu de plateau Star Wars Rébellion permet désormais de jouer des missions inspirées du film ! Lain-Anksoo s'est lui aussi retourné vers 2017 avec un article sur le meilleur et le pire des publications de l'année, tandis que Dark Jies est revenu sur 40 ans de cartes de vœux de Lucasfilm. Mais c'est Yocana qui a été le plus loin, avec des évènements Légendes survenus 5000 ans avant les films dans la chronologie Star Wars !
Un petit mot sur l'avenir pour finir : les plannings de Pocket et Panini se remplissent pour 2018, et on ne devrait pas tarder à avoir des nouvelles de la fin de la saison 4 de la série Star Wars Rebels… Avec Solo, on ne devrait pas manquer de contenu Star Wars avant plusieurs mois !
Rendez-vous la première semaine du mois prochain pour le résumé de ce mois-ci !
Share and Enjoy