[SWU] Résumé du mois de Juin
|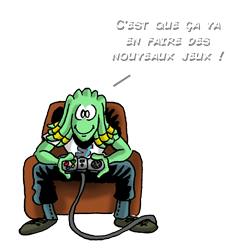 Nous sommes le premier lundi du mois, et voici donc le résumé des principales informations du mois dernier !
Juin, c'est le mois de l'Electronic Entertainment Expo, E3 pour les intimes, où les éditeurs viennent traditionnellement faire leurs grosses annonces vidéoludiques… Bon, pour ce qui est de Star Wars c'était par contre un peu léger cette année. Et tandis que Battlefront s'enrichit d'un DLC sur la Cité des Nuages, on a appris que le Battlefront III annulé dans les années 2000 sortira finalement sur Steam, sous le nom Galaxy in Turmoil… Et gratuitement en plus ! Citons aussi The Old Republic, qui continue son scénario avec la sortie du chapitre XIV, et nous prépare aux nouveautés du chapitre XV…
La réalité augmentée n'est pas en reste avec deux nouveaux projets : , tandis que la promotion du film se fait de plus en plus présente avec photos et présentations des personnages…
En animation, on signalera surtout l'arrivée de la saison 2 de Rebels en DVD et Blu-ray, en tout cas pour les anglophones. Pour la version française du Blu-ray, on me dit dans l'oreillette que ce n'est pas prévu pour le moment.
En livres, on se tournera surtout vers l'automne pour les Beaux Livres… Et on attend avec impatience début 2017 pour les traductions de deux romans de l'univers officiel ! En attendant, il y a toujours notre traduction maison d'une nouvelle de l'univers Legends, et plein de résumés d'histoires de tous les univers et de tous les supports !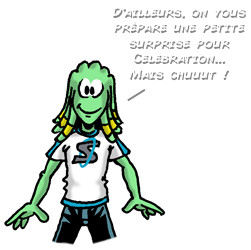 Du côté des cartes à collectionner, les séries se suivent et n'ont pas l'air de révolutionner grand-chose… Au contraire, les figurines vintage de 1985 voulaient proposer quelques nouveautés.
Rien à voir, mais on a enfin eu le planning de la convention Celebration Europe, qui aura lieu dans une dizaine de jours à Londres, pourtant plus si européenne que ça. Et parce qu'on ne pouvait pas attendre plus, on nous a dévoilé la date et le lieu de Celebration 2017, qui se déroulera comme prévu aux Etats-Unis !
Et enfin, dans l'encyclopédie SWU ce mois-ci était surtout consacré à l'univers officiel : Obi-Wan et Anakin, The Clone Wars, Han Solo… Mais la mise à jour Legends était tout de même centrée sur la trilogie L'Académie Jedi, ça compense !
Rendez-vous le premier lundi du mois prochain pour le résumé de ce mois-ci !
Share and Enjoy