[The Mandalorian] The Mandalorian : rumeur sur le vaisseau du héros
|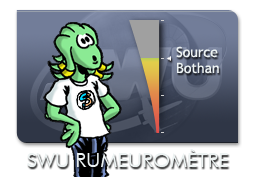 Le très bien informé site MakingStarWars aurait eu vent de deux nouvelles rumeurs aujourd'hui… sur la première série live Star Wars, The Mandalorian.
Tout d'abord, leur source aurait indiquée que la série ferait un bon dans le temps à un moment dans la première saison, pour se retrouver cinq ans après le sixième film de la saga, Le Retour du Jedi. Pour rappel, la série début trois ans après cet épisode…
Ensuite, le site aurait entendu parler du vaisseau du héros, incarné par Pedro Pascal, qui serait un vieux rafiot datant de la Guerre des Clones ! De plus, ce vaisseau serait nommé le "Razorcrest" ou un vaisseau de type "Razorcrest" (les deux sources du site ne donnent pas la même indication pour le nom).
Enfin, une rumeur plus intéressante serait que le vaisseau serait équipé d'une chambre pour permettre de cryogéniser quelqu'un dans de la carbonite…
The Mandalorian racontera l'histoire d'un nouveau guerrier, dans la bordure extérieure, loin de la politique de la Nouvelle République trois ans après la Bataille d'Endor… Elle sera diffusé en 2019 sur le service de streaming Disney+.
Share and Enjoy